It also features overboost functionality, with 180 kW and 580 Nm on tap for just 10 seconds. Here are the key differences between the standard Amarok V6 and the Amarok Canyon V6.
The Colour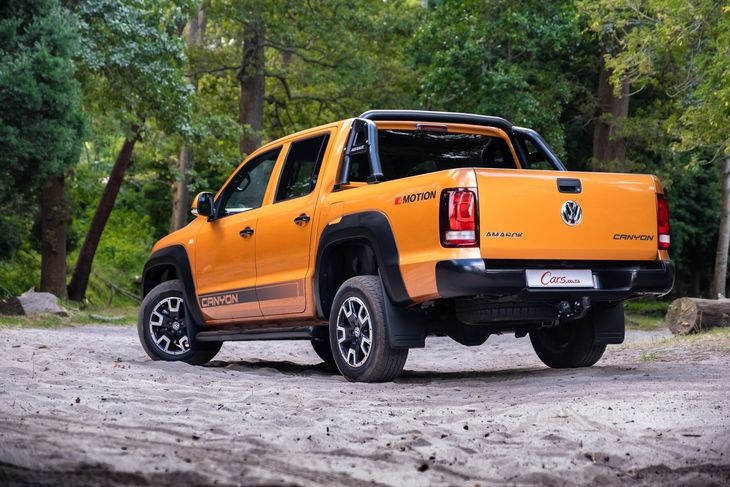 The most obvious difference is the Honey Orange metallic exterior paint, which is exclusive to the Amarok Canyon.
The Design Details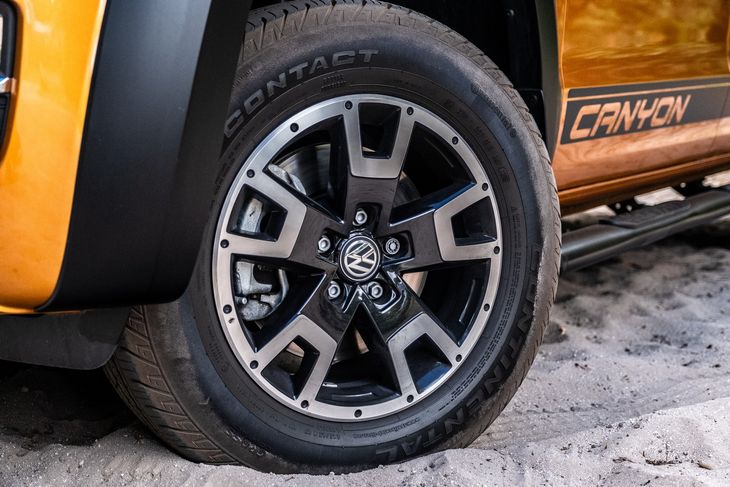 The Volkswagen Amarok Canyon boasts matte black door handles, a black radiator grille, chrome-plated body-coloured exterior mirrs, black wheel arches, Canyon decals and unique 17-inch Aragua alloy wheels.
The Cabin Trim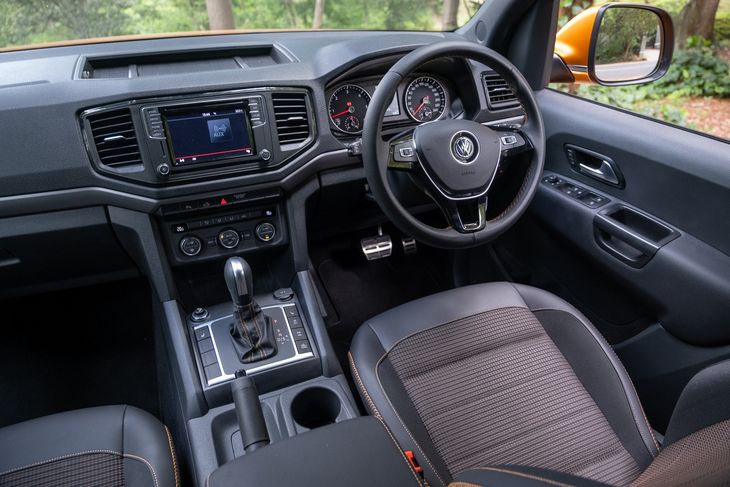 Inside, the Volkswagen Amarok Canyon receives partial leather seats with Honey Orange coloured stitching, seatbelts with orange seams, a steering wheel wrapped in black with orange detailing and a black roof lining. There are also embroidered floor mats.
Standard specification is largely carried over from the standard Amarok V6 and includes things like Bi-Xenon headlights with LED daytime running lights, parking distance control (front and rear) with rear view camera, featuring rear and front parking sensors and a reverse camera, Radio Composition Media and App-Connect with voice control. Satellite navigation, an uprated audio system, heated seats are available as optional extras.
Summary
We're big fans of the Volkswagen Amarok with its potent V6 engine. Not only does it deliver stellar performance, but the way it drives is impressive for a body-on-frame double-cab bakkie. Interior fittings are of a good quality and standard specification at this price point is good. We also had the chance to drive the Amarok Canyon in some soft sand for these photos and the 4Motion all-wheel-drive system barely broke a sweat. The Volkswagen Amarok V6 is a finalist in the #CarsAwards - powered by WesBank.
Towing in South Africa: here's what the law says...
Considering towing a trailer, boat or caravan? Ensure you stay on the right side of the law...
Check your driving licence now – if you have a code B licence, you are not allowed to go big when towing. In 2000, South Africa changed to the credit card format for driving licence and the codes changed, too. Code 08 was converted to an EB licence, which entitles the bearer to tow a medium to large caravan.
Individuals who passed their driving licence test after 2000, however, received a code B licence and aren't allowed to pull a medium to large caravan. In this first instalment of a two-part series, we look at the legal aspects involved in towing.
But first: GVM vs. tare
Gross vehicle mass (GVM) is the maximum operating mass of a vehicle (or trailer) as stipulated by the manufacturer. This is the fully laden state. The tare mass is that of an empty vehicle (or trailer). Deducting the tare mass from the GVM determines the maximum mass that can be carried by the vehicle (or trailer).
Licence codes explained
Ignoring the tow vehicle's mass for the moment, the following maximum trailer mass (GVM) may be towed:
Code B: 750 kg | 750 kg
Code EB: 750 kg | 3 500 kg
Max. unbraked trailer mass (GVM) Max. braked trailer mass (GVM)
Light luggage trailers weigh less than 750 kg, while most caravans and even off-road trailers exceed that threshold.
Limits on the tow vehicle
It's important that the tow vehicle can control the trailer or caravan and ensure safe operation of the train. The National Traffic Act governs the trailer's maximum-allowed GVM as a function of the tow vehicle's tare mass. An unbraked trailer's maximum GVM may not exceed half the tow vehicle's tare mass up to a maximum of 750 kg. Confused? Have a look here:
• 1 000 kg | 500 kg
• 1 500 kg | 750 kg
• 2 000 kg | 750 kg
Tow vehicle's tare mass Max. unbraked trailer mass (GVM)
The maximum GVM of a braked trailer may not exceed the tow vehicle's tare mass up to a maximum of 3 500 kg, as follows:
• 750 kg | 750 kg
• 1 500 kg | 1 500 kg
• 3 500 kg* | 3 500 kg
Tow vehicle's tare mass Max. unbraked trailer mass (GVM)
*B (or EB) licences do not allow driving of a vehicle heavier than 3 500 kg.
Licensing and reflective tape
Trailers (and caravans) must undergo a roadworthiness test when ownership is changed, with an annual road tax payable. Since 1 January 2006, all trailers and caravans must sport strips of reflective tape of SABS ECE R104 specification on the sides and rear.
How to get an EB licence
Upgrading a B licence to EB isn't an easy exercise. Firstly, you have to rewrite the learner's licence exam and then make an appointment for the driving test at an appropriate testing station. This assessment is conducted using a tow vehicle and trailer, and involves a pre-drive safety inspection, yard section and on-road evaluation. During the yard section, the applicant has to: execute a turn; reverse in a straight line; alley dock; parallel park (with the trailer unhitched); and start on an incline without rolling back.
What about a caravan AND a trailer?
It's legal to simultaneously tow a caravan and a trailer if you adhere to the regulations governing one tow vehicle and two trailers. There are additional requirements stipulating the coupling and distances between the trailer and tow vehicle, but they do not impact a standard caravan-and-trailer combination.