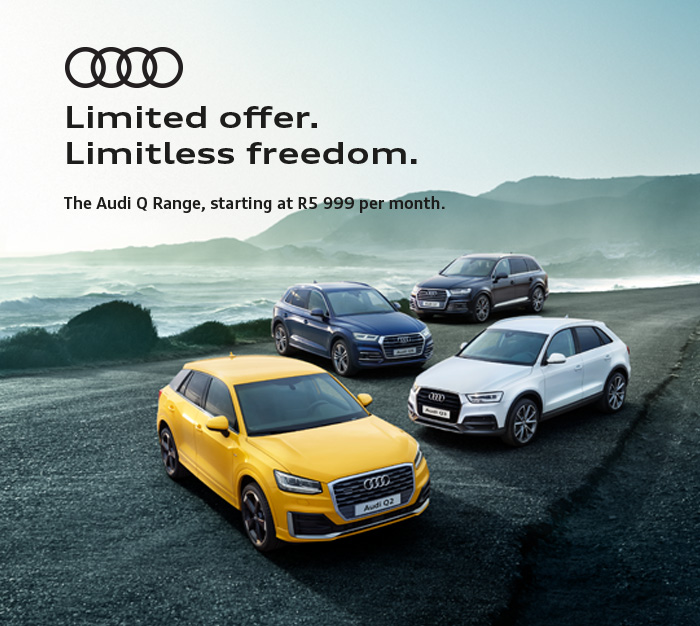 Dear Client
Isn't it time you took control of your freedom?
Get behind the wheel of a new Audi Q Model and explore what lies beyond the ordinary. With limited offers on all Audi Q Models, you can now experience limitless freedom, starting from R5,999 per month.
Designed with Audi's industry-defining technology, drawing on decades of Vorsprung inspiration, the Audi Q2, Q3, Q5 and Q7 leave their contemporaries in the dust with their custom luxury interiors and extraordinary on- and off-road performance.
Find your freedom with limited offers on the Audi Q Range.
This email address is being protected from spambots. You need JavaScript enabled to view it.
Kind Regards
Soulcare Motors
Got any questions? Our This email address is being protected from spambots. You need JavaScript enabled to view it. is ready to help you
Audi collection
Introducing Audi's range of lifestyle accessories.
Audi stands for Vorsprung durch Technik. This philosophy applies not only to our cars, but to everything that bears the Audi name. Each and every Audi product is unmistakable. It represents the spirit of the Audi brand. In short: it is something special.
We would like to introduce you to the range Audi collection lifestyle merchandise. Selected items can accompany you throughout the day, no matter where you are. Begin the day in a relaxed mood with a glance at one of our high-quality chronographs. Feel at home with our timelessly stylish fashion range. And spoil the young ones with the cheerful children's range. Enjoy Audi. Live Audi.